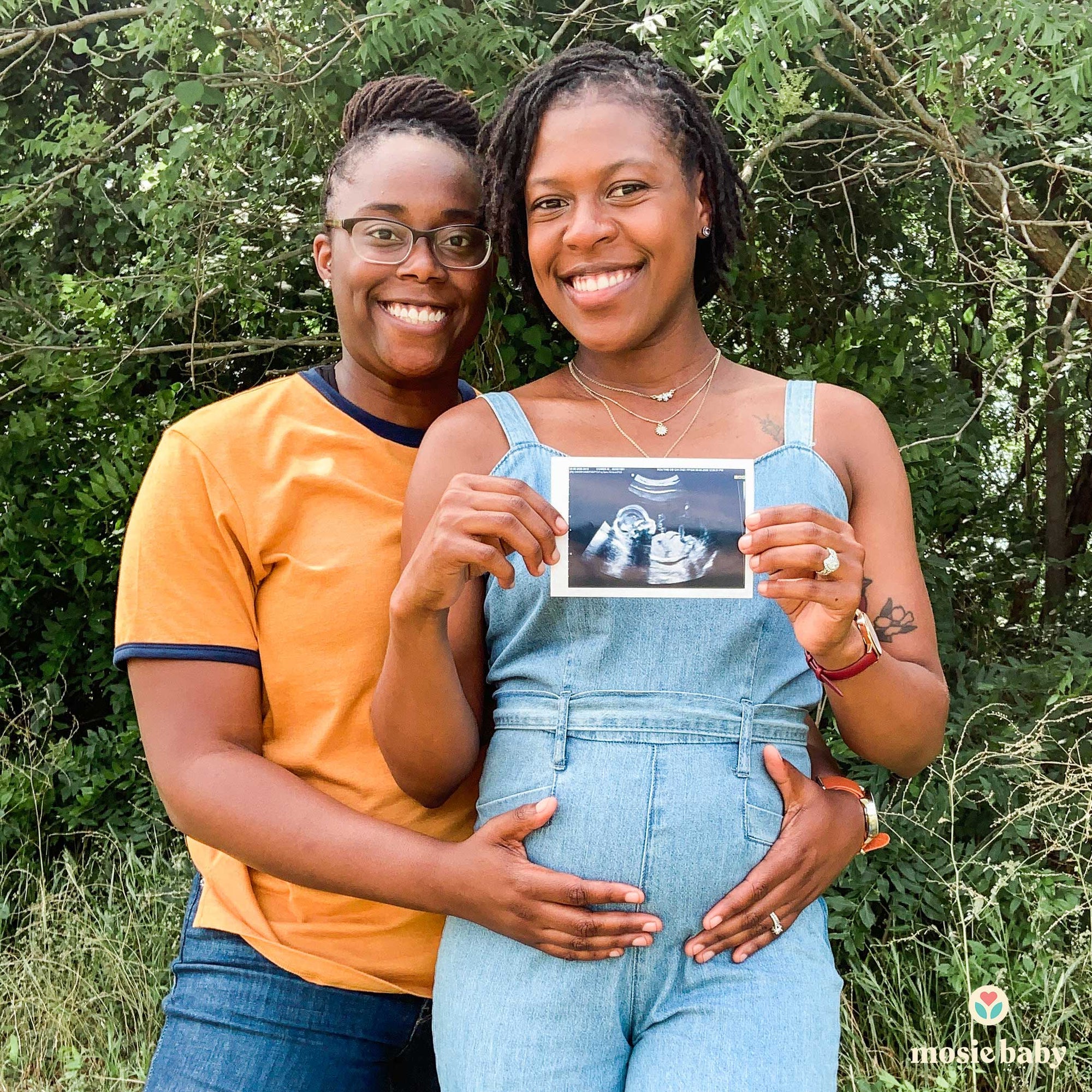 Today we hear from our first family in our new series to highlight and celebrate family building with a known donor. We asked each family in the series the same four questions and left their voices and messages unfiltered so you can hear directly from them. We hope you find this series helpful, and as always, we welcome your feedback. 
We are continuously inspired by the love and tenacity of all the families in the Mosie community. Our sincere thanks to Raven and Brittany for sharing their story and their journey!
How did you know you were ready to start your family?
Raven: I knew I wanted to have children at an early age. I have family and friends who've had children as young as 17 years of age. However, I knew I wanted to go to college, meet the right person to start a family with and go from there. I had a 5-year plan and having a child by 30 was in it even if it meant purchasing sperm from a bank and going through the TTC process by myself. Moving forward I met my amazing, family-oriented wife Brittany in DC during DC Black Pride. We didn't kick it off right away but when we did, I knew she would be the perfect person to start a family with. Before meeting Brittany, I thought my family was big but she for sure had me beat. She grew up with her biological family (5 siblings) before being adopted at 13 years old. She went through 3 foster families and the 3rd family became her adopted family which gave her 3 more siblings. Brittany kept in contact with her second foster family which also gave her another sibling. So, in total, Brittany has about 9 brothers and sisters with whom she is still very close. On top of that she's a Cancer!
Brittany: Similar to my wife, I also knew that I wanted to have children at an early age. I did not have an exact timeline for my life, better yet a 5-year plan. I knew that I wanted to finish school, settle down, and eventually start a family. Being the oldest out of all my siblings, I've always possessed that motherly instinct. But when Raven and I met, I definitely was not optimistic about her 5-year plan. It did not seem realistic. However fast forward to two years later in 2017 we got engaged, then in 2018 we were married and now 5 years since we first met, we are expecting our 1st baby. What a surprise! It honestly wasn't planned that way. We knew we wanted a family; we just didn't know exactly when or how we would go about it. So, when we finally got around to our honeymoon in 2019, that's when we decided that we wanted to start a family.
How did you find your donor? Did it take a long time? 
Finding our donor took about a year. In the beginning we wanted to use Brittany's brother as our donor, however due to us living across the country from each other the timing was not feasible nor in our travel budget. We ended up using an app calledJust A Baby. It's set up like a dating app where you can browse through different profiles of men and women looking for donors or looking to be a donor. We had a joint profile with a bio introducing the both of us and what we were looking for. We were able to find a local donor which made receiving the donation convenient and less time consuming which allowed us to pick up during my ovulation window.
Any advice on how to approach the topic of signing a contract with your donor?  Was it awkward or were you all okay with the whole process?
We made sure to mention the signing of a donor agreement during the initial interaction with the potential donors so that there wouldn't be any surprises down the road. For some we even sent the agreement over for review before moving forward with any other communication. It was kind of awkward meeting a stranger who would potentially be the donor of our child, but as the conversation went on, we became more comfortable with each other.
Did you work with a lawyer for your donor agreement? 
We did not have a lawyer for the donor agreement however, we all signed the agreement in front of a notary and had it notarized.
 *If you're considering using a known donor, please know that anything referenced here is anecdotal and not considered legal or medical advice. For more info, read this article and checklist from Family Equality. You'll want to be sure to discuss your donor's physical and mental health, along with STD testing.
If you're hoping for additional resources, check out our full digital course with Connecting Rainbows on growing your family with donor sperm here.